Introducing the Quick Sweat



Part Number: 51500
Kit Includes: Handle & 1 each 1/2", 3/4", 1" cables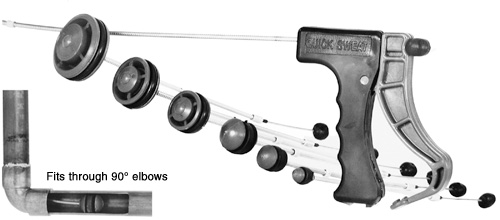 Parts can also be bought separately and in different sizes ranging from 1/2" to 2"
Stops the drip so you can solder.

Flexible 24" steel cables will slide through elbows and are interchangeable with the handle to fit different size copper.

Durable polypropylene handle will fit 1/2" thru 2" cables.

Long lasting elastomeric plug.

Eliminates "bread" and out performs all the rest.

Made in U.S.A.

Find this on page C-23 of the PASCO catalog.