Introducing the Short Pattern "Sure Test" Plugs, Long Pattern "Sure Test" Plugs, & the Long Pattern Dual Stage "Sure Test" Plugs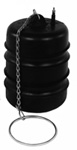 Short Pattern "Sure Test" Plugs
Part Numbers: 4730-4737
Maximum Back Pressure
Air: 10 PSIG
Water: 30 FT. Hd.
Not sold with inflation hose






---

Long Pattern "Sure Test" Plugs
Part Numbers: 4743-4746
Maximum Back Pressure
Air: 10 PSIG
Water: 30 FT. Hd.
Sold with 2 ft. extension hose


---
Long Pattern Dual Stage "Sure Test" Plugs
Part Numbers: 4739-4740
Maximum Back Pressure
Air: 10 PSIG
Water: 30 FT. Hd.
Two 2 ft hoses are molded as part of the plug
Additional hose lengths may be required
This 2-hose plug has twin chamber construction which allows the nose of the plug to be inflated or deflated separately from the back of the plug. This dual stage, 2 hose inflation deflation plug protects the contractor from test water overflow.

Each PASCO "Sure Test" inflatable test plug has the patented "Grip-Rib" design. As the plug is inflated inside the pipe, the "Grip-Rib" acts as a suction cup to insure a positive seal.



Find these on pages H-2 and H-3 of the PASCO catalog.