Introducing the Plastic Closet Flange Spacer



Part Numbers:


21016

- Regular ABS, PVC, Cast Iron


21017

- Cast Iron with clamping ring



Provides Stability to closet flanges installed in oversized or irregular holes cut in the sub floor.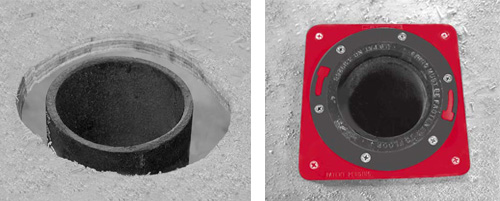 Installs below the closet flange.
Snugly fits PVC, ABS, and Cast Iron closet flanges.
Cut away inner ring to fit the larger OD of a Cast Iron closet flange.
10" Square, 3/8" thick.
Can be stacked for added height when the floor is to be finished with ceramic tile.
Supported with four brass wood screws.
Corrosion proof polyethylene.
Two styles to fit any closet flange.
Packed 20 per case.